Gimmick
Semi-Modular Synth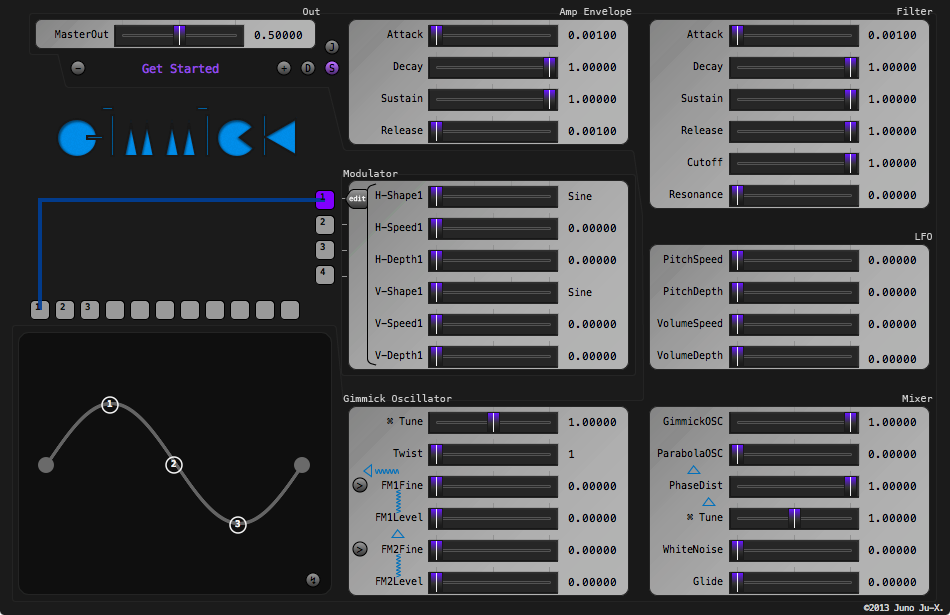 Download $0 demo version, or buy $30 full version!
Introduction
Gimmick is a synthesizer based on a new synthesis method: You can create oscillator waveforms by twisting and moving handles. It's an original creation by Juno from Ju-X.
Uniqueness
Put simply, the Gimmick oscillator lets you draw a waveform as you like and it plays the waveform as it's drawn. No pre-recorded samples or waveforms are used.

The Gimmick oscillator is an invention that creates musical noises, fat 'n warm sounds and seriously ill sounds without requiring you to draw the curve cleanly.
Advanced FM synthesis
Gimmick has a built-in frequency modulation feature that makes sounds glittery, futuristic, and cosmic. Classic FM synthesizers mostly use simple sinewaves. In Gimmick you can manipulate a waveform, and use it as the carrier for FM synthesis!
Gimmick is Full of Life
Synthesizers need modulations to make sounds come alive. Gimmick's modulation section works like a small modular system: you can freely connect any modulator to any handle in the waveform. Handles can be modulated fast or slow, vertically or horizontally, in a cyclic way or randomly!

This way you can create lively, ever-evolving sounds. It's great for pads, but sounds amazing for any other type of sound as well!
Total freedom
Here at Ju-X we love freedom. For this reason, you can input virtually any number that a Mac can recognize in the boxes next to the sliders. Usually developers constrain these inputs based on their personal vision of how a synth should behave, but I didn't set any limits so you can freely experiment with it. You can even set negative numbers for something that cannot be negative, like time.
Still, no real learning is required
While Gimmick has been designed in unique ways, it is very easy to operate! especially if you already know how to operate a subtractive synth. Easy operation, millions of possibilities
Try it today
Download Gimmick today, and hear how it sounds! There is a Demo limitation which is new and funny: After some time it will start to move the sliders automatically at random, like a child sitting next to you abusing the sliders:) So you can stay on a sound only for a limited time (sorry!), but this is good to bring more variation to the synth!

Once you are inspired by the sound of Gimmick, just purchase it as quickly as possible. I'm planning to raise the price with every version update, but of course I won't charge for updates once you have purchased a license. So buying now will give you the lowest price!
How to purchase
To buy Gimmick, click on the "Buy Now" button and follow the quick and easy steps. You can pay by Credit Card or PayPal securely through Fastspring. After completion of your payment, you'll immediately get your license key. Paste it into Gimmick, and you are good to go!
Compatibility
Gimmick is a Audio Unit instrument plug-in. It works on Mac OSX 10.7 or later, both in 32-bit and 64-bit mode, with host apps such as Hosting AU (it's free!), Ableton Live, Logic, GarageBand, and more.

Note : Gimmick is now compatible with macOS 10.13 High Sierra, however it lost compatibility with 10.6. So here's the old installer that is good for 10.6 to 10.12.